What it's like to be a bird by Tim Birkhead and Catherine Rayner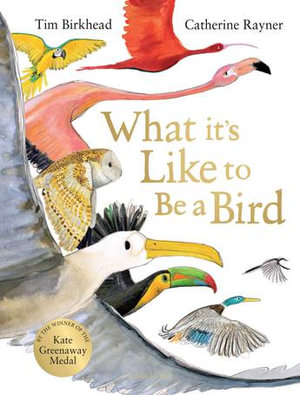 What it's Like to Be a Bird is written by well-known University Professor and ornithologist Tim Birkhead. As the author of numerous books about birds, he has an incredible knowledge and understanding of birds, their habitats and behaviours. This newly published children's non-fiction book, featuring 20 different bird species from all around the world, will be a wonderful resource for bird lovers both young and old. The book contains a contents page with the first chapter being an introduction to birds and their unique attributes. The individual birds discussed in the following chapters are presented on a double page spread with striking full page water colour illustrations and easy to understand information. Some of the birds included are the albatross of the Southern Subantarctic Oceans, the sungrebe of Central and South America, the bar-tailed godwit that spends summers in Alaska and winters in New Zealand and from Australia, the magpie. It is mentioned that the Australian magpie is different to the Eurasian magpie in appearance and its behaviour is much more aggressive.
The book is filled with fun facts that will engage young readers. For example, the male emperor penguin is left alone for two months incubating the egg losing half his body weight, and that the female penguin returns from feeding when the biological clock in her brain tells her its hatching time. Another interesting fact is that the great grey owl of Northern Europe, North America and Asia can pinpoint its prey with its incredible hearing even though the prey is hidden under a blanket of snow. The beautiful cover design and clever endpapers showcase the talent of illustrator Catherine Rayner.
A worthwhile addition to home, school or public library.
Themes: Birds, Animal Behaviour, Non-fiction.
Kathryn Beilby