What do you do to celebrate? by Ashleigh Barton and Martina Heiduczek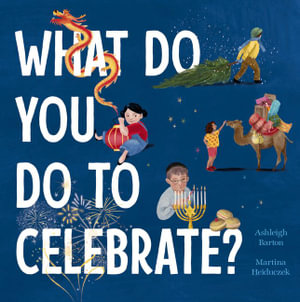 All over the world families and communities come together to celebrate the beginning and end of a year. What Do You Do to Celebrate? is a brightly presented picture book which showcases these celebrations from all over the world. Some of the events celebrated will be immediately familiar to the reader while others may not be easily recognisable. Fortunately at the end of the book the author has provided a very helpful explanation of each of the thirteen events, the country where they take place and some additional and informative facts. For example, Yonatan walks through Jerusalem's Old City to see menorahs lit up in celebration of Hannukah, a Jewish Festival. Tala goes to the Giant Lantern Festival in the Filipino city of San Fernando. Thabo is part of a minstrel troupe who prepare all year to dance in the Cape Town Minstrel Carnival Parade. In Australia, Mae visits Sydney to see the Christmas decorations and displays.
Each celebration is presented on a double page spread with simple rhyming text to engage the reader and complemented by detailed and appealing illustrations. A very worthwhile resource for teachers in the Early Years when talking about the topic of celebrations.
Themes: Celebrations, Diversity, Community, Family.
Kathryn Beilby