Welcome, child! by Sally Morgan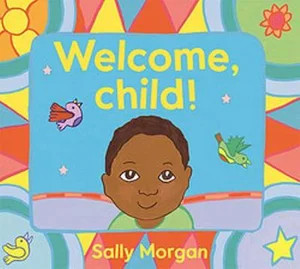 A board book which celebrate the inclusion of a new child in the family, set amongst charming illustrations will be hard to resist by reader or listener. Any child would feel most comfortable with this easily held, durable book, while an older sibling or adult will read it to the child, pausing at the welcoming message written across each page, lingering at the illustrations and all they convey.
Each double page reflects an emotional response to the child coming to the family and his environment. He was once only a wish, then the stars lit up when he came, the sun beaming with happiness, the birds singing with delight, the flowers dancing with joy. And all the family's hearts shine with love and welcome.
The simple unadorned prose is expressive, ending each sentence with the word, you, making the point that the story is based around the new child in the family. It may well be the first word a baby learns, when the story is repeated by its family.
The illustrations are bold, bright and cheery, representing things which become obvious to a young child learning about his environment: the sun, stars, flowers and birds, and of course his family.
Sally Morgan, an award winning author and illustrator is a descendant of the Palyku people of the Pilbara region of Western Australia, and wrote this story after the birth of her first grandchild.
Themes: Aboriginal themes, Board book, Read aloud, Environment, Childhood.
Fran Knight