We will find your hat! by Candy James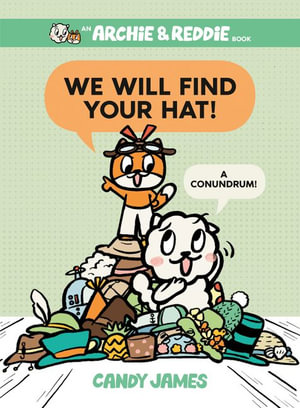 Archie & Reddie are the newest duo for young readers who are ready to move up from Narwhal and Jelly, or Elephant & Piggie books.
Creative pair Candy (illustrator) and James (her author husband) have collaborated on an early reader graphic novel series that younger children will adore. The main characters are based on stuffed toys and are both foxes - Archie is fluffy and white, while Reddie (as you might expect) is a red fox. This is book two, following I really dig pizza, but there is no need to read the series in order.
This book is set on Hat Day, the hattiest day of the year! But sad Archie can't find his favourite hat. Reddie jumps in to help. She asks questions and offers alternatives but none are the right hat. In fact, some of the alternatives turn out not to be hats at all, as Archie hilariously demonstrates.
Illustrations throughout are bold and colourful and very appealing to young readers, with images varying from double page spreads to multiple panels on a page. Movement is built in to the illustrations, giving a feeling of energy and action. Bold fonts and speech bubbles make it easy to follow the story.
The answer to the lost hat is revealed at the end and will delight young readers. A fun and funny book which would be a great read-aloud too.
Themes: Friendship, Humour, Graphic novel.
Kylie Grant