We feel happy! by Katie Abey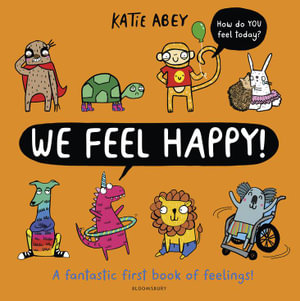 Feelings can be complex and often misunderstood by young children who need guidance when dealing with a myriad of emotions and situations in their daily lives. We Feel Happy is a colourful new release that will resonate with younger readers. The use of brightly animated animal characters provides added visual appeal which readers will enjoy. The feelings covered in this book include happy, shy, calm, scared, sad, excited, grumpy, curious, sorry and excited. Each feeling is discussed on a boldly coloured busy double page spread with a number of white conversation bubbles as well as black text to highlight key messages, individual thoughts, questions and responses. The page about grumpy feelings stands out from the other feelings' pages as it is divided into individual boxes to highlight each reason behind these feelings and a possible solution. At the beginning of the book is a brief introduction asking How are you Feeling? and at end of the book is information for parents and caregivers on how to talk about feelings with young children written by early years specialist, Dr Helen Lewis.
This practical and easy to read book is perfect for sharing with younger children. Early Years teachers in childcare settings, preschool and junior primary classrooms may find this a very useful resource to have on hand when dealing with situations that can arise on a daily basis.
Themes: Feelings, Young Children, Animals.
Kathryn Beilby