We are inevitable by Gayle Forman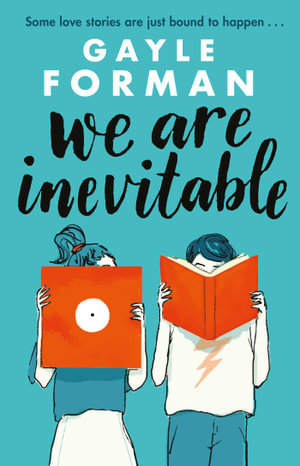 Gayle Forman is a favourite author of mine with bestselling novels If I stay and the sequel Where she went and I have lost my way among others, so I was thrilled to receive a copy of her latest book. Aaron Stein has been left behind trying to run the failing Bluebird Books store with his father while his friends have gone off to college. His mother has left them and so has his brother Sandy. He feels suffocated by his life and hopes for something good to happen – and it seems to with his meeting Hannah, a clever and upbeat musician.
Aaron is in a mess, his beloved books no longer hold his attention, and he focuses on one only, The rise and fall of the dinosaurs by Steve Brusatte, believing that the bookshop is like the dinosaurs, bound for extinction. When Chad cons him into putting in a ramp for his wheelchair at the shop and the locals come to help, Aaron does not seem to be able to take control of his life. He has found overdue bills and credit cards and knows that the bookstore will have to be sold. He makes a deal with Penny Macklemore, the local land holder, but is too afraid to tell his father or stop the renovations that the locals are insisting must be done.
Although dealing with some very difficult issues like addiction, divorce, grief, and disability, all are handled with warmth and insight by Forman, making this a very compelling story that begs to be read in a couple of sittings. Book lovers will enjoy the allusions to many titles throughout the book and will be thrilled to see the whole list printed at the back, ensuring fun working out what they have read or would like to read.
Ultimately a feel-good book, with very relatable characters, We are inevitable is sure to be enjoyed by readers who enjoy books by Melissa Keil (Life in outer space) as well as John Green, Rachel Cohn and David Levithan.
Themes: Dating, Books and book shops, Truth, Addiction, Disability.
Pat Pledger