Wayside School is falling down by Louis Sachar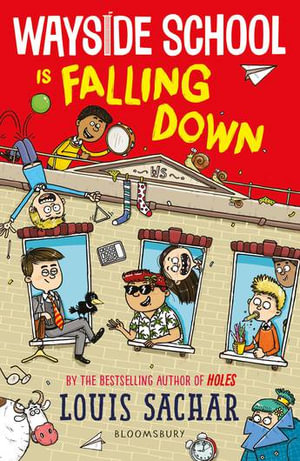 Originally published in 1989, the Wayside School series has certainly held up but also shows its age. While still incredibly funny and clever, there are many elements that may concern parents and teachers, making the series more appropriate for the upper levels of primary school. Not only does the book contain name-calling and bullying (fat, dumb jerk), one of the stories involves a student bringing a 'hobo' to school and in another the students discuss why one child is favoured by the teacher: 'Maybe Mrs Jewls got drunk!...And then she danced on top of her desk...And Myron took her picture. And so now Mrs Jewls has to let Myron do anything he wants, or else he'll show the picture to Mr Kitswatter!'. In other incidents a child kicks another in the 'rear end', another wants to knock her teeth our so that she will look 'cute', one of the children declares his love for the teacher and the teacher reciprocates the sentiment, a child is teased for being emotional and the teacher gets angry and holds a yardstick threateningly above a student's head.
On the flip side, none of this is supposed to be taken seriously; these are completely wacky stories full of puns, illogicality and irrational arguments. Like all the others in the series, this installment is comprised of 30 interconnected short stories that all take place within the realm of the absurd Wayside School: 30 floors, each with a single classroom, a cafeteria whose food nobody will eat and a nineteenth storey that does (or doesn't) exist. This is an undeniably fun read for a more mature reader, which will be throroughly appreciated by fans of other dark comedy writers such as Andy Griffiths and David Walliams.
Themes: Humorous stories, Schools, Magical realism.
Nicole Nelson