Votes for women: The story of Nellie, Rose and Mary by Mark Wilson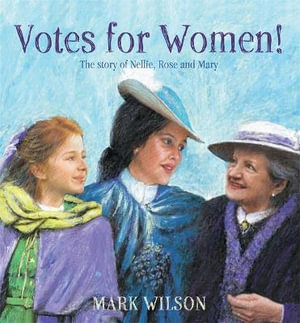 Votes for Women! written and illustrated by Mark Wilson, is a wonderful factual introduction for primary-school aged students to the difficulties faced by women to gain the right to vote. The Suffragette movement was gaining momentum in South Australia and in the story, three strong and dedicated women worked tirelessly, along with others, for the benefit of other women in South Australia. Rose Birks, Treasurer of the Women's Suffrage League in South Australia along with her stepdaughter Nellie and Mary Lee, Secretary of the League, may be unfamiliar to readers both young and old but gave their all for the cause.
The story begins with a brief introduction to Nellie born in 1869, a young girl whose mother had passed away, and her stepmother Rose. Rose was a determined and forthright woman who freely spoke about women's rights and safety. Nellie enjoyed listening to these conversations and began to join Rose at the meetings and provide support. In 1888, the Women's Suffrage League was formed with Mary lee as its Secretary and Rose as its Treasurer. South Australia was in the midst of difficult times with widespread poverty and unemployment. Conditions for women were particularly hard. Public meetings, letters to newspapers and magazines, discussions with politicians and 10,000 signatures on a petition were all involved in the gaining of the vote. The vote, and the suffrage movement, were not without their opponents and public meetings were often marred by violence.
However, in 1894, on December 18, South Australian women were given the right to vote. South Australia the first state in Australia to give women this right, and it was also the first in the world to give women the right to stand for election to parliament.
Votes for Women! is an important book to be shared in all school and public libraries with striking paintings inspired by the French and Australian impressionist painters, Pierre-Auguste Renoir, Claude Monet, Fred McCubbin and Arthur Streeton. A wonderful read. Teacher's notes are available.
Themes: History, Voting, Women's Rights, South Australia.
Kathryn Beilby