Unleash your creative monster by Andy Jones. Illus. by Olaf Falafel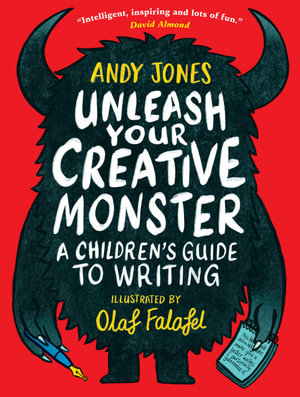 This new release aimed for the middle primary to early secondary student market provides an honest and entertaining guide to the creative writing process for children. The book is full of tools and tips on how to write and has wonderful story prompts to engage both the reader and budding writer. Written in the first person, author Andy Jones has cleverly used his wit and writing skills to give younger writers a step-by-step guide through the process of creating a story.
The book has a detailed Contents section divided into four sections: Training your Creative Monster, Monster Mistakes, When your Monster Gets Stuck and Feeding your Creative Monster. Each section is then sub-divided further into short chapters. The book begins with an introduction to both the author and illustrator and then moves onto an explanation of the use of the monster analogy. These imaginative and detailed monster illustrations spread throughout the book, add so much to the text and are often accompanied by speech bubbles, labels and amusing information.
The book has been written in a way that the reader/writer can either work through at their own pace as there is clear pathway to be followed in each section or chapter with lots of ideas and the all-important story prompt at the end. Or the book also could also be used as a quick reference for a particular writing skill when required.
Classroom teachers may find this book a very valuable resource when working through narratives with their students. The humorous approach provided by both the author and illustrator will entertain and provide reassurance that narrative writing can be fun.
There are two worthwhile YouTube clips that would be perfect to share with children before using the book:
Unleash Your Creative Monster: A Children's Guide to Writing with Andy Jones and Olaf Falafel - YouTube 40+ minutes with Andy Jones and Olaf Falafel talking about their book and the collaborative process
Unleash Your Creative Monster! - YouTube 9mins Olaf Falafel drawing a monster for viewers to follow in order to create their own creative monster.
Themes: Creative Writing for Children, Story Prompts, Ideas.
Kathryn Beilby