Twitch by M.G. Leonard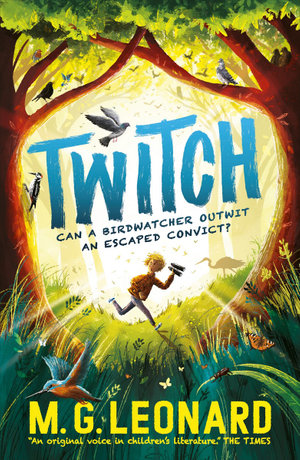 Twitch (real name Corvus) is a young lad who has become an expert in birdwatching in his local area. Unfortunately, although birds are fond of him, he is often bullied at school. Being a birder is not always cool amongst his peers. Fortunately, he is rescued from being made to eat a worm at the hand of the bully, Jack, by a newcomer to the district, at the same time that a convicted robber has escaped and everyone is on alert. Twitch's great observation skills and his attempts to train his homing pigeons lead him to becoming embroiled in solving the mystery of the missing robber and uncovering the truth about a past injustice. Along the way he must learn who to trust and who are his friends.
This is a charming story, with action aplenty and respect for the quiet pursuit of birdwatching. It also reveals the transformation of the young birder, Twitch, from loner to friend; and the change in Jack from bully and then victim, to understanding friend. Written in a charming way we see the ingenious Twitch show environmental care and inventiveness and also great ingenuity in solving a crime, but first he has to work out how to trust. This will be enjoyed by young readers aged 8-12.
Themes: Birdwatching, Bullying, Crime, Lies and truth, Friendship.
Carolyn Hull