Turning cartwheels by Amy Adeney. Illus. by Amy Calautti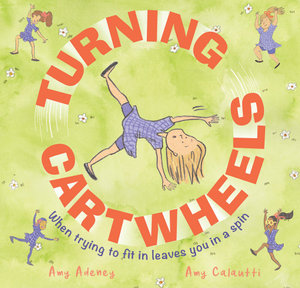 Emma is desperate to join queen bee Carly's Cartwheel Club. Week after week Emma lines up for a try-out, only to be told that she hasn't made the cut. When Emma is finally accepted, she finds that Carly's rules and requirements take all the joy out of cartwheeling, and being part of the gang isn't as awesome as she expected. And so she takes matters into her own hands.
This is a story that could have taken place in any school, anywhere and so it will resonate with a wide range of readers. At a certain stage the need to belong, to be part of the in-crowd becomes the driving force in a child's life but so often, once in, things aren't as rosy as expected. Emma's solution to her dilemma shows imagination and resilience and could be a suggestion for those who are struggling with the constantly changing friendship groups that dominate those middle primary years. It brings that subtle social bullying to the surface to be examined and exposed for what it is, putting those who practise it on notice, while alerting the Emmas about its existence and how it is manifested.
An excellent addition to your collection and lessons about what friendship and bullying is, taking the reader into the realm of how friendships change as children get older. Things are sometimes more than they seem. Teacher's notes are available.
Themes: Social Bullying, Friendship, Peer Pressure, Fitting in and School.
Barbara Braxton