Treasures of the deep by Andrew McGahan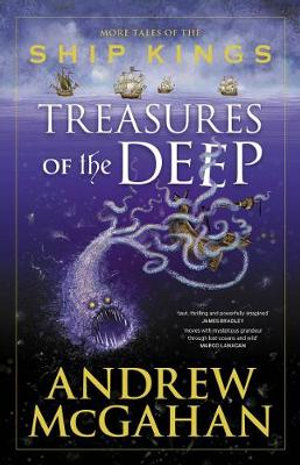 The Ship Kings is a series set in created lands where ocean-going travel, warfare and magical mysteries swirl together in complex narratives. Having read the first of the series - The Coming of the Whirlpool, I was interested to return to this latest book, Treasures of the Deep, threaded with the stories of the 'Scapegoats', the good luck or bewitched seers who travel with the sailors in McGahan's created North Sea world. These blighted souls live difficult lives as they see into the future, and their stories are compelling and awful as the mystery of Dow Amber (the original 'hero' of the Ship Kings series) continues as an undercurrent to the action. With lives lost, ships floundering in frozen wastelands or locked in the grip of a creature of the deep, there is mystery and horror aplenty for the crippled and tortured scapegoats and the sailors who sail the cruel seas and traverse time in this book.
This book could potentially stand alone, a 'lone ship' in the Ship Kings series, but it will be most enjoyed by those who have discovered the mysterious adventures of the previous books. This is more intense and more magical than the Ranger's Apprentice and Brotherband series, but it would be a wonderful next step for those who have discovered this action-adventure genre.
The writing of this book is elegant, intelligent and mature and readers aged 15+ will be most impressed with the adventurous ride.
Themes: Fantasy; Sailing; Mystery; Adventure.
Carolyn Hull