Train party by Karen Blair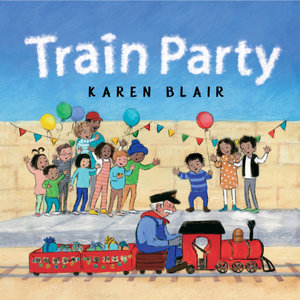 For the many little train lovers out there comes this delightful story about a birthday party at a miniature railway. It even features the well-loved train cake from the classic Australian Women's Weekly Children's Birthday Cake Book. A beautiful map of the train track features on the front and endpapers, complete with roundhouse and signal box; young children will delight in following the track with their finger. The illustrations depict a culturally diverse spread of people and the landscape features the greens and browns of Australia, with lots of gum trees and big blue skies. There are small groups of families gathered all over the train park, all celebrating birthdays of differing ages. They are sitting down and talking together, playing, eating and riding on the minature trains. 'We're at the park. Time to unpack. What can you hear? Clickety-clack'. Children will love joining in with the 'clickety clack' repeated on each page and the train-like rhythm of the short and simple text. After the train ride the families can be seen gathered around, each birthday child blowing out the candles on their cake. 'One more train, but this one's a snack. Blow out the candles! Clickety-clack'.
This is a warm, gentle book depicting a special family day out and the magic of birthday celebrations. It is perfect for train lovers and those who have visited a mini railway, but will delight any preschoolers.
Themes: Trains, Birthday parties, Rhyming book.
Nicole Nelson