Too much stuff by Emily Gravatt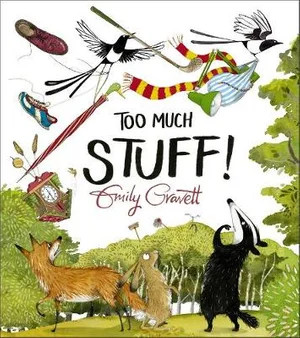 Following on from the brilliant picture book Tidy, Too Much Stuff is set in the same forest but this time the main characters are Meg and Ash the Magpies who are trying to create the best nest for their family. The nest starts off as a normal birds nest but when they discover a magazine ad lining their nest they become obsessed with adding "things" to their nest. This results in the nest crashing to the ground and the eggs being misplaced.
This is a beautiful story about materialism and the inevitable overwhelming consequence of hoarding and collecting things. As a read aloud it is wonderful as the rhyming text flows and the illustrations allow the young reader to engage with the story. As a classroom book it will work well as it fun while still sharing the message and children will love looking through all the items the magpies collect.
I would highly recommend this book to any reader. I really enjoyed the subtly of the environmental message as it allows the book to be enjoyed without feeling like a lesson must be taught. Emily Gravett's humour and illustrations definitely make this a book to add to the library and it is wonderful that it continues the story and characters of Tidy.
Themes: Environmental Issues, Sharing, Materialism, Rhyme.
Mhairi Alcorn