Today's sun by Gregg Dreise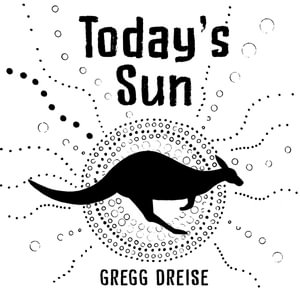 Perfect for young children, this gorgeous board book, illustrated all in black and white, has everything that caregivers would want to share. It would not only stimulate interest in Australian animals, but each double page spread gives the child the opportunity to move or sound like the animal, creating lots of action and laughter.
The lyrical narrative also moves through a day, with the sun waking up, getting bigger, thawing out, warming, cooling, fading and then sleeping. The repetition of the first sentence on each double spread reading 'As today's sun … ' will have children chanting along with the reader.
As today's sun stretched,
I laughed like a happy kookaburra.
Each time the book is read the illustrations reveal more details to comment on and think about. It is amazing how expressive these black and white illustrations are, with possums scurrying out of a hollow log, kookaburras greeting the sun, joyful kangaroos bouncing along and finally a child sleeping on a smiling moon in a star swept sky.
I really liked this board book, and it is one I will keep for my grandchild and one that could be passed onto the next generation of young children.
Themes: Australian animals, Movement.
Pat Pledger