There's a ghost in this house by Oliver Jeffers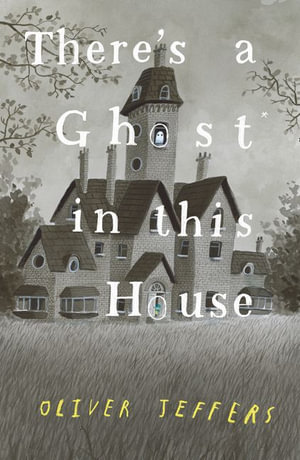 The intriguingly tactile dust cover showing a couple of ghosts peering out from the two letter o's in the title, invites all readers to look further. Through the opaque cover they will just be able to see an old fashioned three storied house, complete with bell tower and ghost, set amidst a grassy field. Tantalised and excited, they are keen to open the pages, albeit cautiously.
Inside a young girl takes us on a tour of her house, where she is sure a ghost exists.
Readers will scream with laughter as they spot the ghosts lurking in the rooms the girl invites us to see. She cannot find any apparitions, but once the opaque paper is drawn across the page, the readers will see what she cannot. Ghosts in the chandelier, a ghost on the stairs, ghosts under the table, sitting at the library desk, their ghostly forms apparent when the inserted page covers the illustration. I can imagine lots of voices calling out, 'there he is', wanting the girl to look in the right place for her ghosts. Readers will be highly entertained as the story takes them through the house searching every room for the ghosts.
The illustrations, reminiscent of many ghostly cartoons, shows small creatures with eyes burning thorough a sheet, or is that a dust cover? hovering above the ground all through the book and again in the wonderful endpapers.
The girl asks questions, and readers will offer many explanations and pieces of information from their experiences. She knows there is a ghost in the house, but questions whether they can be easily seen, or if they have chains and haunt the halls. She has checked the chimney and the wardrobes, peered into the attic and under the beds. She understands that they are hard to see. Perhaps they can only be seen at night, she asks, but in the end while walking past a vaguely familiar portrait, readers may jump to their own conclusions about where the ghost is hiding.
A wonderful read which screams out for sharing and reading aloud, the book encourages readers to discuss all they know about ghosts, giving them a platform to talk about things they believe but cannot see, whether they believe in ghosts, and whether to keep on looking for something that does not wish to be found. New York based author/illustrator, Jeffers brings up these intriguing questions in his entertaining YouTube clip and you can also hear Jeffers reading his book here.
Themes: Ghosts, Humour.
Fran Knight