The world between blinks by Amie Kaufman and Ryan Graudin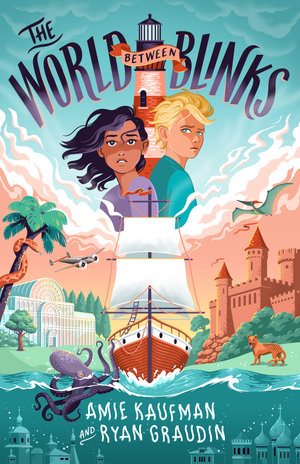 Prolific Australian young adult author Amie Kaufman is back with a new collaboration. Teaming up with American fantasy writer Ryan Graudin, Kaufman has produced another enjoyable and creative work of fantasy. Following a format that Kaufman knows well, The World Between Blinks alternates between characters and authors. Aimed at a younger audience than many of her other novels, the book follows pre-teen cousins Marisol and Jake in a multidimensional adventure. Marisol and Jake's grandmother has died and their family has gathered at her house to pack up her belongings. Finding a map that their Nana has left behind, the cousins follow the directions and end up in another world, The World Between Blinks. The story mixes adventure, mystery and history as Marisol and Jake try to find their way home.
Like all of Kaufman's novels, The World Between Blinks is a fun and easy read, packed full of colourful characters and vivid descriptions. While ostensibly an adventure fantasy story, the plot weaves in historical figures and events in a way that is educational, while also remaining engaging for younger readers. Deeper themes are also explored, as Marisol and Jake learn to deal with their grief and loss. The World Between Blinks is an excellent recommendation for children with an interest in fast-paced fantasy fiction and a good starting point for those interested in trying out the genre. The historical information woven throughout the plot also make this a good choice for budding history enthusiasts. Teacher's notes are available.
Themes: Cousins, Family, History, Adventure, Grief, Loss.
Rose Tabeni