The world awaits by Tomos Roberts. Illus. by Nomoco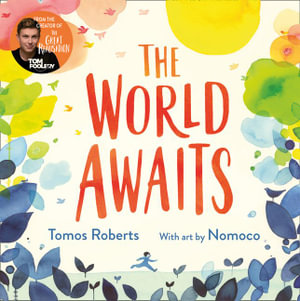 The World Awaits is a thoughtfully written picture book with an important message of hope and connectedness. The child in the story awakens to the new day but refuses to get out of bed. His older brother listens to his reason for staying in bed and then gently proceeds to give all the reasons why he should get up. He begins by telling his brother he has so much potential that will be wasted if he does not share it with the world. Then he talks about the plusses and the minuses we have in our core that impacts on how we can add goodness to the world or take it away. The older brother gives examples of simple plus things the younger brother could do such as 'make your bed', 'give your grandparents a call' or offer a 'word of warmth to someone struggling'. He encourages his brother to realise that 'global goodness grows with each good word and each good deed' no matter how big or small these plusses are. At the end of the story the small child is encouraged to get out of bed with exuberance and begin his day with any necessary support from his brother.
This beautifully illustrated book would best be shared between an adult and child or within a classroom setting where guided discussions can occur.
Themes: Mental Health, Resilience, Community, Family, Connectedness.
Kathryn Beilby