The woman in blue by Elly Griffiths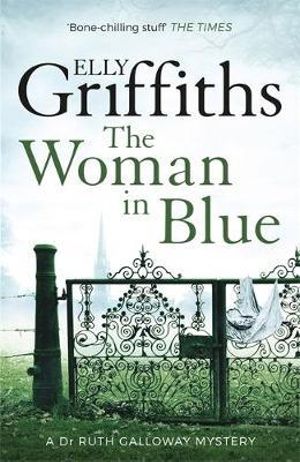 A Ruth Galloway mystery is always a treat to read. In The woman in blue Ruth's friend Cathbad sees what he believes is a vision of the Virgin Mary, a woman in a blue cloak standing in the cemetery. The next day a woman wrapped in blue is found dead. Ruth's friend Hilary, an Anglican priest, has been receiving poisonous letters and Ruth believes that the two incidents may be related.
The setting of this novel is intriguing. The medieval town of Little Walsingham is a centre for pilgrims and a Good Friday Passion Play. It is also the place where a group of female Anglican priests, including Hilary, have come to a conference about training to be a bishop. The town and its architecture, churches, cemetery and religious activities are so skilfully described that I felt that I was there, and indeed would love to visit the real town.
Griffiths deftly weaves murder against a background of religious beliefs, opposition to women priests in the Anglican world, jealousy and the familiar interplay between DCI Nelson and Ruth to make a very easy to read, stimulating mystery. Fans of mysteries would perhaps be better introduced to Ruth Galloway in her early books, especially book 1, The crossing places, but after that it is not difficult to read them up out of order.
Themes: Mystery, Women priests, Murder, Religion.
Pat Pledger