The wolf's howl by A.L. Tait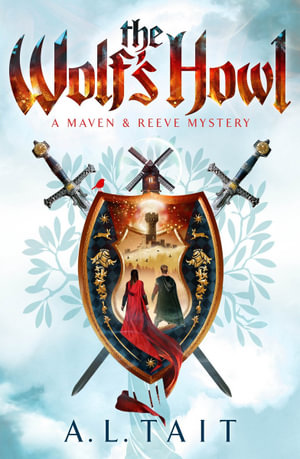 The Wolf's Howl (another Maven and Reeve Mystery), written by A.L.Tait, is the sequel to The Fire Star, which was a 2021 CBCA notable book. Allison Tait (A.L.Tait) is an internationally published bestselling author of middle years adventure books and is best known for the popular Mapmaker Chronicles.
In The Wolf's Howl, the two central characters, Maven and Reeve, having just unmasked a killer and rescued the dazzling Firestar Ruby, find themselves travelling to the farflung, miserable castle of Glawn. Fans of Medieval history will enjoy the physical, social and political setting of the Maven and Reeve mysteries. Tait conjures up a bleak, boggy, bitterly cold, tussocky moor setting complete with a gloomy castle and sinister windmills with blades that can sever the bodies of the unwary. A constant presence is the vicious wind - The Wolf's Howl, which carries with it sleet, darkness and peril to any who venture outside into its clutches. The inhabitants of this setting live in the medieval castle hierarchy under the Airl of Glawn. All, from the scullery maids in the kitchen, to the stern faceless guards hidden in swirling grey cloaks, live in a state of fear, immersed as they are in the brutality, political intrigue and their generally miserable stations in the social structure of a medieval castle.
Into this grim scenario ride Reeve of Norwood, Squire of Sir Garrick, Knight Protector of Rennart Castle, Sir Garrick himself, his new wife, the Lady Cassandra and her maid, Maven. Their mission is delicate and dangerous. They have been sent by the Airl of Buckthorn to subtly ascertain the sentiments of the Airl of Glawn towards the king - a mission which is tantamount to treasonous design. On their arrival, the party find the castle in chaos as the cook has gone missing. Normally this would not be such a notable catastrophe. The plot begins to thicken. Maven applies her considerable intellect to unravelling the clues surrounding the mystery.
Tait delineates the hardship experienced by women of the era who, if found to be literate, clever or educated in any way, would be executed. Maven of course is all of these things and in addition belongs to a secret society of women - the Beech Society. Secret societies, the role of women and the political, cultural, economic and social structure of medieval society are all woven into the cracking storyline.
The Wolf's Howl is not an easy read. The plot twists sinuously demanding steady concentration. For the reader who is uninitiated into the medieval world with its accompanying social rankings, formalities and associated trappings, this book presents a challenge. However for a powerful tale of danger, mystery, loyalty and betrayal, The Wolf's Howl is recommended.
Themes: Role of women, Politics, Social structure, Secret societies of the medieval era.
Wendy Jeffrey