The Wizard of Oz by Russell Hunter and L. Frank Baum. Illus. by Simona Bursi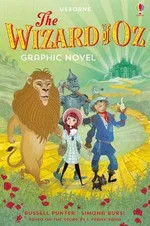 The classic story of Dorothy, the Tinman, the Scarecrow the Cowardly Lion, the Munchkins and the Wicked Witch of the West has been beautifully reinterpreted in this colourful graphic novel, perfect for younger readers who have not yet made the journey from Kansas to the Emerald City and just in time to be a focus for the 2021 Book Week theme of Old Worlds, New Worlds, Other Worlds.

Declared by the US Library of Congress as "America's greatest and best-loved homegrown fairytale", this is a story that all children should be familiar with given the references from it that appear in life today, and so to have it in graphic novel format which makes it accessible to newly independent readers and a whole new generation of children is a bonus. The full plot of the story is summarised here, and it could be wise to have the unabridged classic version available for those who are enticed to read that as well.
Barbara Braxton