The very hungry caterpillar's bug hunt by Eric Carle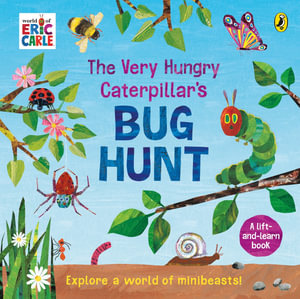 Eric Carle died in 2021, and The World of Eric Carle series is being published by Penguin. His The very hungry caterpillar was first published in 1969 and has been a favourite story, repeatedly published ever since. In this new book, the caterpillar takes the reader on a hunt for bugs in their garden. A lift the flap board book, the book will be a favourite as young children follow the caterpillar on its journey. Four double pages ask the reader to look up, look closely, look under and look inside in their search for bugs, while the last page reprises all the bugs seen in the pervious pages and shows young readers how all can care for the insect world.
The cover shows a range of insects to be found inside the book and will support observation of what is on each page, encouraging the readers to observe and talk about what they see.
Brightly coloured illustrations recall the talent of this wonderful author illustrator and will lead younger readers to his other books, certainly The very hungry caterpillar amongst the seventy he wrote and illustrated.
Themes: Environment, Insects, Bugs, Observation.
Fran Knight