The vanishing at the very small castle by Jackie French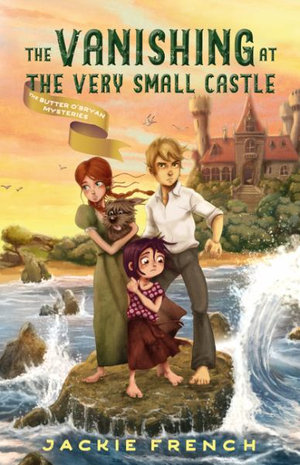 The Vanishing at the Very Small Castle is the second historical read in the Butter O'Bryan Mysteries.
Butter O'Bryan lives with his father and his very eccentric and entertaining Aunts: Peculiar, Cake and Elephant. Also living at the Very Small Castle are Gil, Olive and Tish, children who have lost their parents and whom Butter befriended in the first story, The Ghost of Howlers Beach. The setting of this story is once again the secluded Howlers Beach and the very impressive castle where the main characters live. For most of this story Butter's father and Gil are absent seeking treatment for Gil's polio. The remaining children are under the care of the Aunts and become involved in movie making and mystery. A disappearing leading lady, a giant of a man known as the Monster, circus acts, deception, numerous shared meals and a wartime romance all provide an entertaining and exciting read. The disappearance of Delilah Devine and the pointing of a finger of suspicion at the Monster leaves Butter, the Aunts and the Police all questioning the reality of what is really going on. Young Tish is unwavering in her support of the Monster and in the end Butter will solve the disappearance and truth will prevail.
In the Author Notes Jackie French has provided detailed information about historical aspects of the time as well as well-known and famous Australian recipes such as the pavlova and Victorian Sponge. This book would be an excellent read aloud for classes studying early Australian history.
Themes: Australia, Great Depression, Film making, Adventure, Mystery, Families, Friendships, History.
Kathryn Beilby