The unusual abduction of Avery Conifer by Ilsa Evans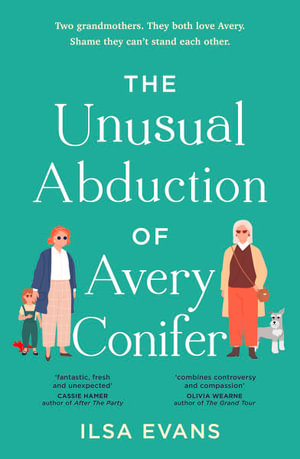 This is the story of an extended family plunged into a most unexpected and discomforting situation. Cleo, the mother of a young child, Avery, has been jailed after her husband contacted the authorities, suggesting that she is allegedly using violence against their child, Avery. Her husband, Daniel, begins a new relationship with a young woman who knows nothing of his life, and she thinks that he is lovely. However, all is not well, as his mother, Shirley, and his wife's mother, Cleo, meet to discuss what they think may be an issue: that both agree that it is possibly Daniel who is harming the daughter, rather than her mother. Their unsettled response to bruises on their grand-daughter is so worrying for the grandmothers - causing them to decide that their best course of action would be to steal Avery and escape to the country with her. Daniel's father seems to be relatively uninterested in the issue - and is happy to go off to play golf when his wife is planning to flee the city to save their grandchild any further problems. She is aware that he may be unsettled by the situation.
The narrative is told by each chapter focussing on different characters, and each chapter is dated so that we 'diarise' the events. In a sense, we build an understanding of the narrative through this choice, and see how it revolves around the grandmothers' anxiety about Daniel's actions, and being able to keep Avery safe while they decide how to handle their situation. Winnie, Shirley's quite old mother, insists on accompanying the trio, and is a most interesting character, unexpectedly rather more tech-savvy than the two younger grandmothers, and thus able to access appropriate help online. All three women become imaginative in terms of eluding the police, as well as staying 'out' of touch with the other members of both families. Beth had written a letter to The Law Institute of Victoria, explaining her understanding of what had occurred and the court's response, which she saw as unjust. What is so uplifting is the calming influence of the three older women, their decisions generated to stay 'safely' away while they discuss the future choices, and keeping Avery happy on this unexpected "holiday". Winnie is a wonder with technology and is a great help to them, and their relationship becomes a loving, supportive and united one.
Meanwhile Daniel finds another partner, and she is enraptured by his character. This challenges us to wonder about his choices and personality. Was he right about his wife harming the daughter, or was it him or could it have been someone else? Unable to work with the grandmothers, Cleo continues to be devastated by her 'punishment'. However, the story of the three older women and the child dominates, and we see how the earlier animosity between the grandmothers is healed and the child is happy and safe. In many ways this is a story of ordinary people responding in a way that brings about the best case scenario for the child, and ultimately the family, and certainly challenges the reader.
This book is definitely an adult read, and would be suitable for older adolescents, in that Ilsa Evans creates a believable scenario that clearly suggests the world of the 21st century, and tells of a very kind, if somewhat risky, but loving response that, while legally questionable, is remarkably daring and ultimately appropriate in terms of the child's happiness and the outcome of their daring 'adventure'.
Themes: Grandmothers, Child abuse, Kidnapping.
Elizabeth Bondar