The unstoppable flying Flanagan by Felice Arena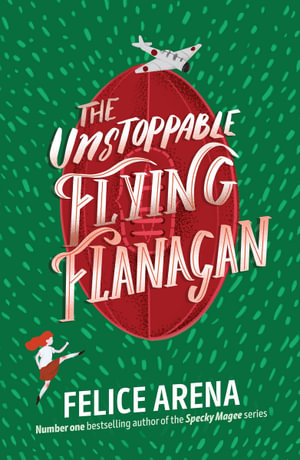 In The Unstoppable Flying Flanagan, Felice Arena writes about a favourite topic - football. Felice was inspired by a random article he discovered about women playing soccer in WW 1 in England. This information encouraged him to research women's football in Australia and he discovered there were many popular female football games held during WW1 and WW2.
This investigation is the inspiration for football loving Maggie Flanagan, who decides to organise an all-female football game to raise funds for the troops fighting in WW2. She is enthusiastically unstoppable as the title suggests but Maggie must deal with 1940's attitudes towards women and sport and the idea that football is unladylike.
The war seems to be coming closer to Australia, with Japanese bombings in Darwin, American soldiers in Melbourne and Maggie swears she sees a Japanese spy plane near her home, although no one believes her. Maggie is always worrying about her brother who is serving overseas. The family have not heard from him for months, but Maggie never gives up writing to him and waiting for his return. The football game is Maggie's way of supporting him and his love of football.
Maggie's friends also struggle with the attitudes of the times, George, a boy who is not into sport and Italian Elena who is seen more as the enemy due to WW2 loyalties.
Maggie is an appealing character with a genuine love for the sport and the reader can't help but barrack for her to succeed.
This novel is aimed at children aged 9-12 years and will appeal to footy loving readers. The Unstoppable Flying Flanagan provides a different perspective of the sport, highlighting an historical background to the game in Australia and the attitudes of the time.
Themes: Austrlain rules Football, Melbourne, Equality, World War 2.
Jane Moore