The unfunny bunny by Adrian Beck and James Hart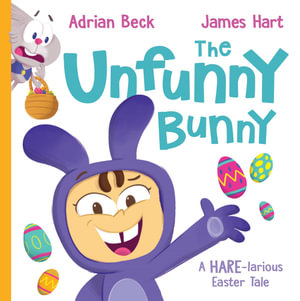 Children of all ages will love this bright and colourful rhyming new release, just in time for Easter. When rain keeps a family inside, one of the children happily sets about the job of cheering them up. She enlists the aid of Easter Bunny whom she hears creeping around the house at night delivering eggs and creates mayhem for her family. Each family member is delivered eggs in a humorous way with a story to match:
Liv loves playing pirates.
With a hook in her hand.
So we buried her treasure
Deep down in the sand.
EGGS marks the spot!
Finally Easter Bunny has had enough of the jokes and the pranks that have gone too far and are no longer funny. The prankster realises she has spoilt Easter for her family and sets about making things right. Eventually her family is able to celebrate a happy and fun filled Easter. Young readers will love the witty jokes, clever pranks and the use of EGG-stremely…EGG-stra…EGG-static words!
Themes: Easter, Bunny, Family, Jokes, Pranks.
Kathryn Beilby