The true colour of a little white lie by Gabriel Bergmoser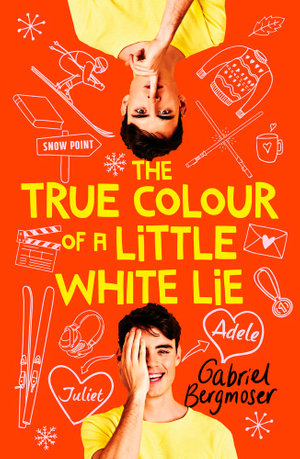 Nelson is a loser at school. An unfortunate classroom incident and the departure of his only friend left him wallowing alone. When he dares to ask out a girl, he fears another rejection to confirm his loser status. But then his parents manage the restaurant at a ski lodge and every weekend in the ski season he gets to kill time on the slopes as a reprieve from his normal isolation. On the mountain he discovers that maybe he is not such a loser when two different girls (who visit on alternate weekends) take a shine to him; the young adult staff treat him with respect, and he discovers that his skiing skills are improving too. Unfortunately, the downhill slide juggling two potential girlfriends requires secrecy and lies and eventually there will be a crash moment. The true colour of a white lie is revealed.
This is a teen romantic drama from the perspective of a young male mid-teen. It reveals the consequences of poor choices, living a lie and being too timid to speak the truth before the lie gets out of control. It is a downhill run with obstacles and the result is never going to end well. The lessons that Nelson learns take time, but he will discover that sometimes you have to start afresh and learn from your own mistakes. I am not sure how many mid-teen males will admit to enjoying teen romance, but both male and female readers will relate to the hormone-laced confusion of relationships and maturing, and the struggle of being self-confident when you feel like you have nothing to offer. This book has hints of semi-autobiographical connection and the setting in the ski lodge is obviously well-known to the author.
Themes: Teen romance; Lies; Skiing.
Carolyn Hull