The tiny woman's coat by Joy Cowley and Giselle Clarkson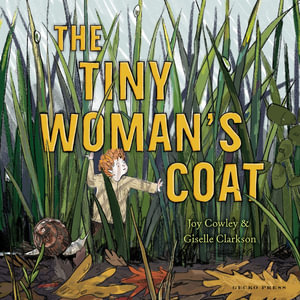 Publishing 'curiously good books', New Zealand's Gecko Press sources its stock from around the world. But this one is from the pen of renowned New Zealand author, Joy Cowley and first published in 1987 offers a charming story of kindness and perseverance. The little woman is cold and wet and requires a coat, but where will she get one? She pulls some leaves to her then asks how she will cut them to size. Each time she asks a question a response occurs from an animal around her. The goose cuts the leaves with its bill, the porcupine gives her one of his quills as a needle, the horse offers a hair from his mane to sew the leaves together. She plucks a seed pod to make buttons, and finally puts on her coat. And just in time as the weather blows in, the little woman, the horse, porcupine and snail walking into the blast of wind.
This is a lovely story of cooperation, of resourcefulness, of sharing and working together, of asking for help and finding it.
The tiny woman 's companion, the snail, features on every page, in the jungle of grasses through which they walk. Readers will take delight recognising some of the features of the autumnal garden and its occupants: the animals, bluebells, leaves from a range of trees and shrubs offering vastly different colours and shapes, and blackberries, the autumn fruit which children love to gather.
Class will be encouraged to discuss size and shape, seasons of the year and above all resourcefulness and kindness as the little woman finds what she needs in the garden. A Q&A with the author is available.
Themes: Resourcefulness, Kindness, Autumn, Gardens.
Fran Knight