The thing that goes ping! by Mark Carthew and Shane McG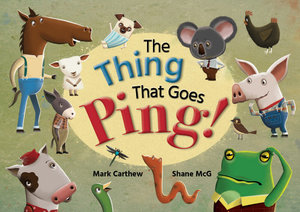 A funny look at the animals and activities which occur on a farm is presented in this lively picture book pursuing the sound that goes 'ping'.
In the town of Figgy-tra-ling is the ring of something that goes ping. Intriguing the reader, the quest continues over the hills and down the dales, around the houses and across the fields until the source of this noise is found. And all in rhyme.
Animals in their enclosures are asked: a koala (I am not a bear) over there, a snake in the lake, a hen in a pen, a donkey that likes to chat as long as you give it a pat, a duck near the truck and a pig in a sty. All respond to the question about the ping, but to no avail, So the quest continues.
The fun of the rhyming lines will not be lost on the audience, as they predict the rhyming lines, learn some of the lines  to repeat when the book is next read, and laugh at how the rhymes are resolved. I spent a few minutes thinking about how the author would think up a rhyme for donkey, only to find that the sentence was twisted around to make something else instead. I did laugh, as will the audience.
The lively illustrations full of detail will invite readers to take a closer look at the animals and activities of living in a small community or on a farm. They will learn the words that apply to the enclosures some animals live in (sty, pen, bog, lake etc) while absorbing some of the things found on a farm (windmill, dam, lake, farmhouse, truck etc). This is a cute introduction to life on a farm, which very few of our kids are involved with, so widening their horizons. And combining the idea of the farm with a quest adds to the intrigue and adventure. Younger readers will love offering information about animals they have come across, or farm activities they have been involved in, but best of all, hearing the story read again. Teacher's notes and other activities are available.
Themes: Farms, Animals, Humour, Quests.
Fran Knight