The terrible event by David Cohen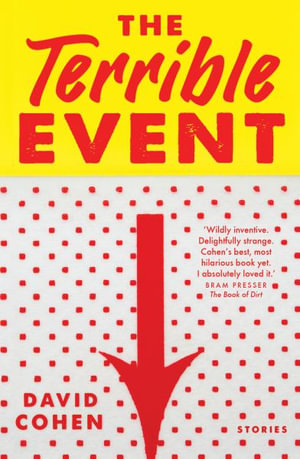 This compilation of eight short stories is a masterly example of dry wit, black humour and absurd understatement.
In the title story, the narrator tries to second-guess their Director in the Utopia/Yes Minister-like quest for the perfect memorial to an unnamed terrible event. Cohen takes us into the bureaucratic nightmare of on-line surveys, brainstorming sessions and politically correct keynote speakers and email signatures in a deadpan series of events that is both too real to be comfortable, and laugh-out-loud relatable.
In 'Mr Cheerio', also written in the first-person, two young people take to the streets in support of homeless people, in a series of increasingly bizarre protests. At the same time, the narrator displays an apparent lack of insight into their deteriorating relationship.
In a longer story, 'Bugs', 46-year-old Mark unearths a much-loved childhood toy, but in a sinister mirroring, the talking bunny starts to lose his catchphrases, as Mark's mental health begins to spiral. Mark's surrounds are comfortingly familiar; a handyman neighbour with an impressive tool belt, the ritual of regularly ordering Indian takeaway, middle-aged fathers wearing Pink Floyd t-shirts and a concerned uber driver, however their very ordinariness makes his decline the more poignant.
'Mattress' is a short interior monologue recounting an ill-fated furniture pickup, as the narrator describes how he has to work with his ex-partner's new boyfriend.
A new employee becomes increasingly fixated on their elusive predecessor in 'Holes', as they try to overcome the tedium of a routine office job by rearranging the desk stationary.
'A History of Walking' tracks an unnamed man's life through the various ways and places that he walks.
'The Enigma of Keith' ends the collection with another story about a memorial; a roadside marker that starts as a traffic management research project, but takes on a life of its own.
All these stories are set in familiar locations, with unassuming, often naïve characters narrating. They are gentle stories that unmask the restrained disappointments that come with working in bungling bureaucracies and navigating imperfect relationships. They are a delight to read, and Cohen has subtly linked them with recurring characters, objects and themes that tie the individual stories into a thought-provokingly good read that senior students who appreciate the absurd, would enjoy.
Language warning on several of the stories.
Themes: Relationships, Bureaucracy.
Margaret Crohn