The stern chase by John Flanagan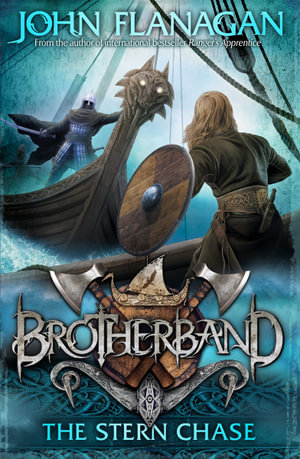 In times of difficulty the Skandian Brotherband work together like a well-oiled machine. They are accomplished and capable sailors, but also formidable adversaries in combat. When Erak's Wolfship is stolen in a daring raid, and then gets used in piracy attacks against Skandian allies, the small band of sailors under the leadership of Hal, the master sailor and tactician, must use all of their skills to put a stop to the pirates. Will the small vessel, The Heron, be able to match the larger vessel in open waters? Can the sailors defeat their opponents despite being outnumbered? Can Hal come up with a plan to use his vessel to its full advantage? And can they restore the Skandian reputation to the wider world?
Set in a fictitious world, but reminiscent of the Vikings, this is book 9 in the Brotherband stories, and yet again it is a book to recommend to those who love action and adventure. With sailing terminology and tactics throughout, it is also a series for those who are inspired by the ocean and traditional nautical skills. But as for all of John Flanagan's books, it is a delight as the band of 'brothers' work together and overcome difficulties in conflict settings. Both male and female readers will love this book, but because there is swashbuckling violence it will appeal to those who want more action in the stories they read, but there is also a gentle and sometimes amusing tenderness in the relationships between the odd collection of sailors. I have loved every story from this series, and Flanagan will yet again cause readers to be delighted.
Themes: Adventure, Piracy, Sailing, Friendship.
Carolyn Hull