The Southern Oscillation Index by Cath Kenneally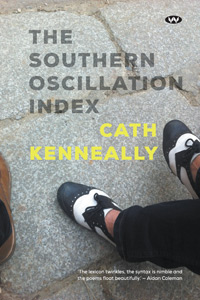 Named for the meteorological fluctuation in air pressure, the fluctuations in Kenneally's collection of poems reflect the places she oscillates between: South Australia, and the United Kingdom. Locations change from one poem to the other, and only on reading do we gain recognition of those places, and the feelings they provoke.
The poems beautifully and deftly describe places, but it is not the places themselves that draw you into Kenneally's work, it is the snatches of life, the thoughts, and experiences that we recognise and share.
I loved her descriptions of the election posters in 'Suburban moments', then the rows of Vietnamese beauticians buffing and polishing toenails in the local parlour, the plants struggling to grow, neighbours sneakily dumping leaves on verges, and the Bunnings fairy lights in the living room. It's a familiarity that draws you in, makes you smile, and ponder the questions she tosses out in an offhanded way, something to think about in spare moments.
It's a slim volume of poetry, but the poems have a way of capturing moments and making you reflect again; you could pick them up and enjoy many times over.
Themes: Poetry.
Helen Eddy