The Smidgens by David O'Connell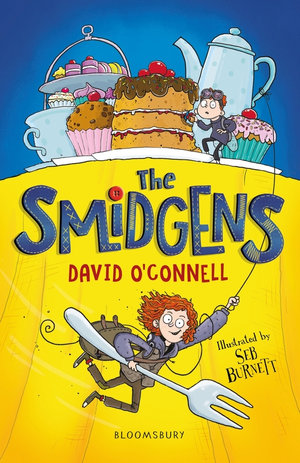 The Smidgens is written by London author and illustrator David O'Connell. The madcap action is perfectly accompanied by the quirky illustrations of Seb Burnett.
The Smidgens is bound to become the first of a much loved series of magical adventures to be enjoyed by children. This book allows children to enter into the world of little people, of fantastical adventures, of characters who are full of wit and quick thinking. It is a world where there are baddies and ghosts; there are magical powers for good and bad. Human beings live above and the Smidgens venture into the human world.
The Smidgen family in this story live with a sense of loss, of a dark past. They are the only survivors - just one little family of which Gafferty Sprout is the oldest daughter and chief protagonist of the story. No bigger than 10cm high, Gafferty lives by the Smidgen's rules: stay hidden and observe, don't do anything flipping stupid, be ready to run and run fast and if in doubt make it up. Gafferty is lonely and would love to meet other Smidgens her own age if they still exist. She discovers an old book and this not only sets her on the trail of finding others like her but also leads her into dangerous action packed adventure where she needs all the skills, magic and help from others that she can get.
In its whimsicalness and depiction of loving family life and funny little creatures The Smidgens is a little like The Moomintrolls by Swedish author Tove Jansson. It is also reminiscent of the Mrs Pepperpot series by Norwegian author Alf Proyson which was about the adventures of a little woman no bigger than a pepperpot. The Borrowers by Mary Norton is a classic series featuring little people; The Smidgens is funnier.
There is somehow an importance for children to experience reading about the adventures of little imaginary fantastic folk. Wondering about what it would be like for a whole family to dine on a potato chip and still have left overs and all the other things experienced by the Smidgens opens up the world of imagination and enhances the ability to see the world from a different perspective.
The Smidgens will bring a lot of gentle pleasure and laughs into the lives of young readers.
Themes: Magic, Adventure, Little folk, Family.
Wendy Jeffrey