The secret explorers and the rainforest rangers by S. J. King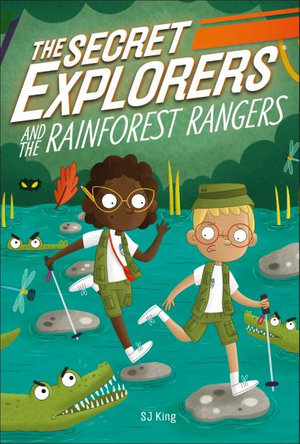 The Secret Explorers series will continue to hold the interest of younger readers especially those that enjoy learning new facts while reading a fiction story. Once again the eight highly gifted children, Ollie, Cheng, Gustavo, Leah, Kiki, Roshni, Tamiko and Connor are responsible for a mission to rescue animals or humans and encourage readers to learn about a natural environment. In Book 5, The Secret Explorers and the Rain Forest Rangers, rainforest expert Ollie and engineering expert Kiki are sent on a mission to rescue a baby orangutan lost in the Borneo rainforest. In this story the readers will learn about selfish plantation owners who are plotting to cut down the rainforest in order to plant more trees to harvest palm oil for commercial production. Will Ollie and Kiki with support from the other children at the Exploration Station help save the rainforest?
In every mission, a vehicle aptly named the Beagle, transforms itself into an all-terrain machine suitable for the environment the secret explorers are visiting. Each book contains mission notes, a quiz and a glossary of new and important words. All books in the series introduce younger readers to natural environments around the world that need to be cared for. There are illustrations throughout providing visual links for the reader. Any of the six books would be a great read-aloud in the classroom related to an environmental topic or shared as small group read. A welcome addition to a home, school or public library.
Themes: Friends, Climate Change, Environmental Issues, Gifted Children, Rainforests, Rescues, Danger, Problem Solving.
Kathryn Beilby