The road trip by Beth O'Leary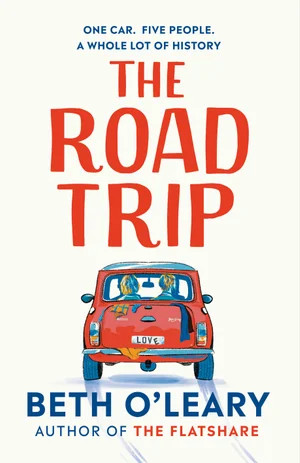 Addie and her sister are about to embark on an epic road trip to a friend's wedding in the north of Scotland. Not long after setting off, a car slams into the back of theirs. The driver is none other than Addie's ex, Dylan, who she has avoided since their traumatic break-up two years earlier.
Dylan and his best mate are heading to the wedding too, and they have totalled their car, so Addie has no choice but to offer them a ride. The car is soon jam-packed full of luggage and secrets, and with three hundred miles ahead of them, Dylan and Addie cannot avoid confronting the very messy history of their relationship.
Will they make it to the wedding on time? And, more importantly... is this really the end of the road for Addie and Dylan?
I really loved the time jumping chapters, going from the beginning of Dylan and Addie's relationship to the awkwardness of their present situation. Add onto that, the changing narration from Dylan to Addie, it sounds like it would be difficult to keep track of, but the story and timelines were easy to follow and added an element of anticipation.
Addie is quite the enjoyable female protagonist. It is easy to relate to some of her attributes, particularly in the way she handles conflict within her relationship.
This book does cover the idea of toxic friendships and includes a redemption arc of one of the main characters. This may not seem realistic to some; however, it ties up the end of the novel nicely. The character of Marcus is one that pushes a lot of buttons, in the end I despised him. That in itself is a testament to good writing, to make the reader feel such emotion towards a character requires a special talent. The love between Addie and Dylan was so strong and I was shipping them the entire way through, hoping for a happy ending.
Overall a thoroughly enjoyable novel that romance readers will definitely enjoy!
Themes: Alcoholism, Friendship, Jealousy, Love, Loyalty, Point of View, Relationships, Romance, Stalking.
Emily Feetham