The Raven heir by Stephanie Burgis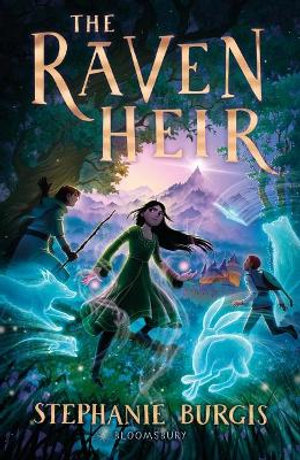 Raven Heir is set in a magical medieval world. It is told through Cordelia's eyes, a girl who is busting to escape to freedom beyond the castle and forest. Her mother has kept her family protected and hiding away for 12 years. One of her children is a royal heir to the Raven's Crown but it is a dangerous crown to inherit. Cordelia is one of triplets who include Giles and Rosalind, and they also have an older brother. When soldiers arrive Cordelia shape-shifts to a bird to escape and find out more information but her rash act drops their defenses, and her mother and older brother are captured. The family can communicate telepathically and the triplets are urged to escape. So begins a long quest to find the broken Raven's Crown and heal the land beyond the forest. Cordelia must be smart and outwit her power-hungry relatives, which she does so by shape-shifting in tricky situations. She also has the help of her siblings as their magical powers develop.
Cordelia is a pretty serious character and it is good to see this balanced with the humour of Giles the gormless, ballad-singing brother and Rosalind who is always sparring for a fight. I enjoyed the shape shifting and the magic unique to each of the other characters. Family disagreements and love ring true. The theme of the land being sick and broken, which needed peace and good honest rulers to restore it, was also pertinent and subtle. The story suits a dedicated fantasy reader who enjoys novel ideas and can keep abreast of many details in an exciting, quite busy, plot. This is the first of a series, Raven Crown.
Themes: Magic, Fantasy, Family Love.
Jo Marshall