The Paris Affair by Pip Drysdale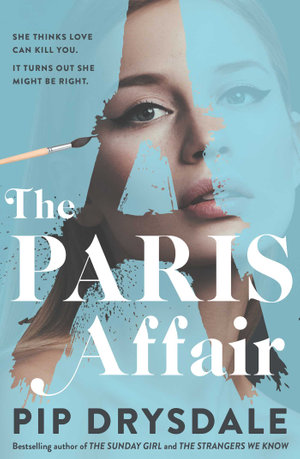 Harper Brown has a super power: she can break up with a guy in less than three minutes and make him think that it was his idea. The demonstration of this super power is how we meet our heroine, art and culture reporter Harper.
Harper is new to Paris, immune to emotional attachment and ready to rock the world of journalism. Harper doesn't like people (except for her best and only friend Camilla) and doesn't believe in love but she does love to write and she's good at it too.
Harper knows that she is just one big scoop away from leaving the world of gallery openings and opera reviews and becoming a serious investigative journalist. She seems to be getting her life back together after the end of a long-term relationship with her self-obsessed musician ex (random one night stands and 7am scotch withstanding). That is, until Harper meets up and coming artist Noah X. Sent to review his new art exhibition, Harper finds herself becoming attached, something that she has sworn not to let happen. Add in jealous ex-wives and meddlesome muses and Harper and Noah seem doomed from the start.
Something much more serious is happening though. Someone is murdering young women in Paris and unless Harper can figure out who it is, and soon, she thinks she may be next.
The Paris Affair is the third offering from Australian author Pip Drysdale. It is an easy and intriguing thriller that does not take itself too seriously. Drysdale's writing is peppered with pop culture and social media references that make this book an undemanding read, particularly for millennial and Gen Z audiences.
The romance between Noah and Harper takes a backstage to Harper's investigation of the missing women. While dealing with serious subject matter, The Paris Affair is witty and entertaining, perfect for a holiday read or for those looking for lighter fare. Paris is an interesting and vivid backdrop and may be particularly appealing to those missing the world outside Australia in a post-pandemic society.
Themes: Romance, Paris, Journalism, Art and Culture, Murder, Friendship.
Rose Tabeni