The other half of you by Michael Mohammed Ahmad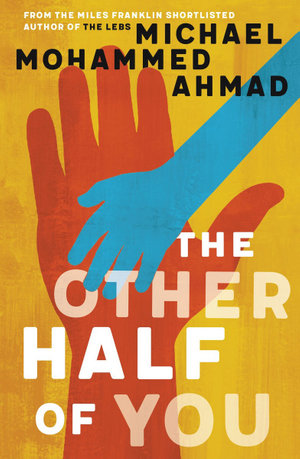 Framed as a letter to his newborn son Kahlil, Bani recounts the story of how he came to meet and love his child's mother. It is a story of struggle with parental and community expectations. His father had warned him to never marry an outsider, someone who wasn't Arab Muslim Alawite, a branch of Shia Islam that does not accept converts and can only be passed on through the bloodline. But when Bani falls in love with Sahara, a tomato-faced Lebanese Christian, he comes to realise the one thing his father asked of him, is everything.

Coming to grips with losing his true love, Bani submits to the traditional matchmaking arrangements his parents undertake on his behalf, making for many humorous scenes, along with the explosive tinderbox of male Lebanese aggression around him. This expose of Muslim family and customs is reminiscent of the 2017 Australian romantic comedy 'Ali's Wedding' about a Muslim torn between his father, his community and following his heart. There is a serious undercurrent to Ahmad's book though, as the setting is Sydney, post Cronulla riots, where young Lebanese men are routinely stereotyped as predators and potential terrorists. Ahmad highlights sexism and racism both within his culture and in the wider Australian community.

Ahmad's novel reveals the heartache and struggles of the young Bani, a sensitive man who tries to honour his parents but falls in love with the most unlikely people and dreams of being a writer. There is a lot of humour, and also a heartwarming honesty that makes this book a real pleasure to read.
Themes: Muslims in Australia, Lebanese culture, Parental expectations, Love, Racism.
Helen Eddy