The Murder Rule by Dervla McTiernan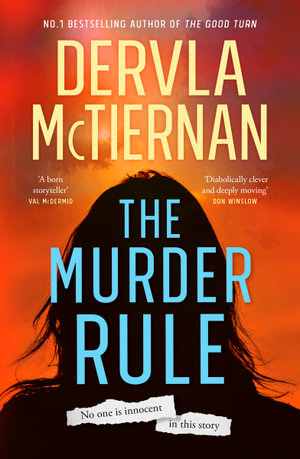 Although The murder rule does not follow the career of Detective Cormac Reilly from her previous three novels, The ruin, The scholar and The good turn, fans of McTiernan's books will not be disappointed in this psychological thriller. Hannah Rokeby cons her way into the Innocence Project wanting to be on the case of Michael Dandridge, who had been convicted of rape and murder. He has declared that he is innocent, and members of the Innocence Project are trying to help overturn his case. But why is Hannah obsessed with this case and just what is she trying to do to Michael, prove his innocence or his guilt?
Told in alternative chapters, the story is told from Hannah's point of view with extracts from her mother's diary written when she was a young woman. Laura's diary fills in the background to Hannah's obsession with this case. Her mother is an alcoholic, and it is easy to sympathise with her and Hannah's actions as more of the diary's contents are revealed.
Hannah is a fascinating character. Her intelligence and ability to read people shines through, even as the reader is shocked at the way she is prepared to manipulate people to be able to work on Michael Dandridge's case. When cracks start to appear in the evidence Hannah is left trying to puzzle out what is going on.
This started out slowly as the reader learns about the Innocence Project, the people who work there and the processes that the investigators go through to find the truth. As the story progresses the tension really builds up with unexpected twists and turns, new characters introduced and doubts about what is happening. The last section is thrilling and breath-taking and I could not put it down.
I picked this up because I had really enjoyed McTiernan's previous books and believe that it would be enjoyed by fans of psychological mysteries like Wych elm by Tana French, Turn of the key by Ruth Ware and The Attack by Catherine Jinks.
Themes: Murder, Psychological thriller.
Pat Pledger