The mozzie with a sharp snozzie by Irina Goundortseva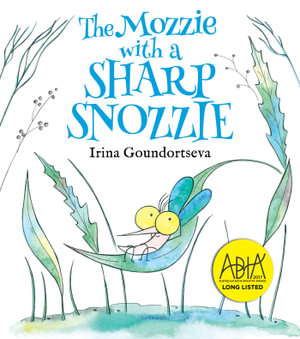 Mozzie the mosquito desperately wants to be friends with the beautiful and adored butterflies. However, they unkindly say that mosquitoes are ugly and boring. Poor old Mozzie creeps away very disheartened. Mozzie is not one to give up though, and an idea evolves. Very cleverly Mozzie borrows the petals of a beautiful flower and is in disguise. Mozzie joins the butterflies and is accepted into the group. However, disaster strikes and Mozzie and the butterflies are captured by a butterfly collector. Fortunately, Mozzie saves the day and learns that being a mosquito has its benefits as well as its place in the community of nature.
This delightful story with its simple and vibrant illustrations will appeal to young children. For educators and parents this is the perfect story to share with those children who struggle with confidence, fitting in and peer pressure to conform. It also has a lesson for those children who do not readily accept others who are different.
Themes: : Friendship, Self-esteem, Wellbeing, Insects, Gender Neutral.
Kathryn Beilby