The Magpie Society : One for sorrow by Zoe Sugg and Amy McCulloch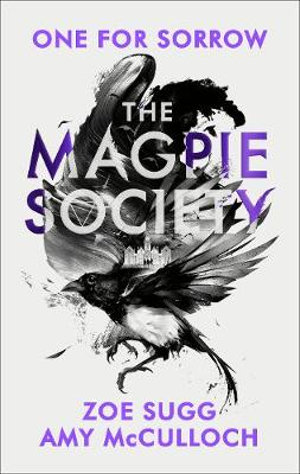 One for Sorrow is the first volume in a new YA series set at Illumen Hall – a UK boarding school. Audrey Wagner's just arrived from Georgia, USA, to complete her senior year - but her roommate Ivy Moore-Zhang is a popular school leader having started there back in Yr 7. The girls clash in the beginning but soon become unlikely friends when Theodore tries to hook up with them separately but at the same time. Teaching Teddy a lesson is an amusing bonding experience.
Audrey alludes to leaving her country to escape one tragedy, only to move into a room of a recently deceased student. On her first day, an anonymous podcaster dramatically broadcasts claims regarding how and why Lola was killed. Ivy & Audrey each have good reasons for staying at school over the mid-term break, and both are keen to investigate further. The magpie tattoo found on the dead girl leads them to delve into the school's mythical secret society.
The two authors' perspectives are almost seamless, and most readers wouldn't realize there was more than one author. This technique is particularly good for telling the reader exactly how each main character is feeling in response to all the twists and turns. During the research phase, we're mindful that libraries are sometimes superior to a web browser! Clover, Araminta, Patrick and Mr Willis provide plenty of complications before the narrators clarify, if not complete the mystery….
The book ends on the mandatory cliff-hanger but there is plenitude when Audrey finally remembers to show Ivy the letter Lola had hidden in the secret compartment of their room – this oversight and the initial description of the letter as being very old, detracts from the plausibility of the plot. Nevertheless, fans of YA gothic crime fiction should enjoy cutting their teeth on this crime series.
Themes: Gothic thriller.
Deborah Robins