The lost library by Rebecca Stead and Wendy Mass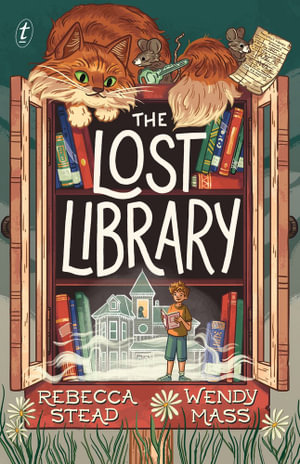 The authors of the highly recommended Bob, have collaborated on another middle grade story that will delight its young readers as well as older lovers of books and libraries. When a mysterious free library suddenly appears overnight, guarded by the large orange cat named Mortimer, eleven-year-old Evan, is intrigued. He borrows two books at random and discovers that his father had borrowed one of them when he was a teenager and that they had originally belonged to the town's library which had burned down many years previously. With his friend Rafe he begins to investigate and starts asking questions that no one seems to want to answer and uncovers answers that will change his life.
Told in three voices, that of Evan, the cat Mortimer, who once lived in the burnt library with his kitten sister, and Al, the reader becomes caught up in each of their stories. Evan is feeling worried about going to a new school, Mortimer wishes that he still had his sister with him, while Al lives in a museum that is haunted. And the mysteries of who started the little free library, how the original town library burnt down and how Evan's father was involved will be enjoyed by readers who like to solve puzzles.
The lost library is an uplifting story that will leave readers feeling happy. With light touches of fantasy in the form of ghosts who had died in the fire, a gorgeous cat, a father who rescues mice from traps and a strong theme of friendship, this will have appeal as a class read aloud and a story for all book lovers, with its dedication, 'For the librarians of the past, present, and future.' Teacher's notes are available.
Themes: Books and libraries, Mystery, Change, Fantasy, Friendship,.
Pat Pledger