The lion who came to stay by Victoria Mackinlay and Ronojoy Ghosh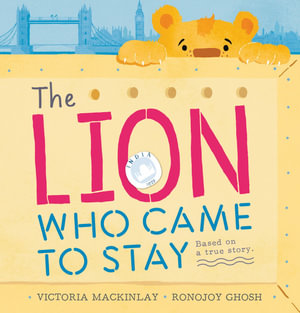 When Francis' parents returned to England from India, they brought with them a present from the Maharajah. Francis had asked for a baby elephant, but this proved to be too large, so when Francis opened the animal crate on Christmas Day, a baby lion popped out its golden head and charmed them all. Francis and the lion, called Singh, the Sanskrit word for lion, did everything together: they looked at the sky above them, searching for falling stars, wandered around Singh's new home in London, looking at the sights and after many unsuccessful attempts, Francis eventually taught Singh to roar. But one day when Francis needed to go back to boarding school and his parents to return to India, a fateful decision had to be acted upon. The family made its way to London Zoo in a black taxi cab, there to leave Singh in his new home.
After that Francis visited frequently, Singh pushing himself up to the bars to be petted and stroked. The lion died in 1940, but lived on through the cubs he fathered with the lioness, Bessie. He was always a popular and polite exhibit in the zoo, as stories of his background were told.
This charming tale, beautifully illustrated by Ghosh, with a level of humour behind the images which will make readers laugh, will also bring tears of recognition to readers who have had a pet and known the sadness of separation. Readers will sympathize with both characters, Singh and Francis as they make the best of the fate that is placed before them. But it is a happy tale, one of love and friendship, companionship and togetherness, themes that will stay with the reader after the book is closed.
Some may like to look up a similar story, that of Christian the lion, bought at Harrods in London in 1969.
Themes: Lions, Friendship, Zoos, India, Family, Separation.
Fran Knight