The last reunion by Kayte Nunn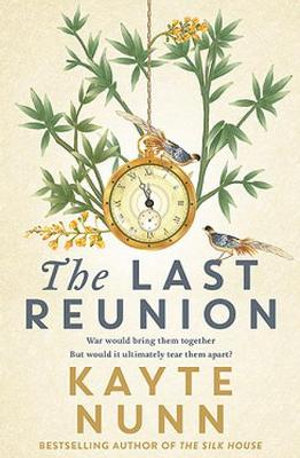 Olivia, eager to use her Asian Art qualification, has taken an unpaid job as assistant to a London art dealer. When, in late 1999, she is assigned to assess a collection of Japanese netsuke offered by Beatrice, an elderly and eccentric client, she takes on the job with enthusiasm. One of the netsuke, the rare fox-girl, was stolen from a display in Oxford in 1976, so its provenance is important to establish prior to accepting it for sale. The parallel thread to this story goes back to 1945 in Burma where a group of young women from diverse backgrounds volunteer for the Women's Auxiliary Service (Burma), known as WASABIES. Beatrice Fitzgibbon was one of a group of five women who found themselves in a group providing canteen services to troops fighting in the jungle close to the front line. They served meals to up to 1,000 men a day from temporary canteens set up in the tropical heat. They battle the elements as well as close encounters with the enemy and attention, both looked for and unwanted, from some men, forging a bond which could survive the testing conditions and petty jealousies inevitable in such close quarters.
Back in 1999, Olivia, suffering from a severe cold, is taken in by elderly Beatrice. Recuperating, she finds and starts to read old diaries from that time and from them learns about the fox-girl netsuke. When asked if she will accompany Beatrice to a reunion of the surviving women, which will also achieve certified ownership and provenance for the contentious netsuke, Olivia agrees. What follows strips away the years from the elderly women and brings clarity to their relationship, bringing old wounds to the fore to be healed through their solidarity. Far from being "The last reunion" the reader is left with a feeling their newly found alliance will be ongoing.
This is an interesting and rarely seen insight into the war in Burma and the women who went to support the troops. I was less persuaded by the ending but overall a good read for senior students or adults interested in this period in history.
Themes: WW2, Burma, Women's war service.
Sue Speck