The last of the apple blossom by Mary-Lou Stephen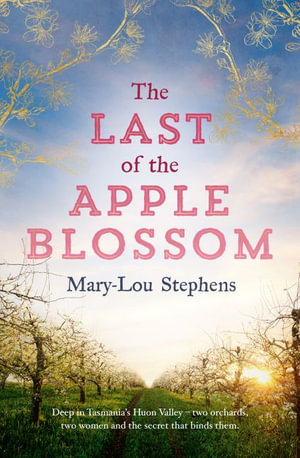 This is a romantic story based around the history of the Tasmanian Apple orchard industry following the 1967 disastrous bushfire in the Huon Valley. The story starts with the young schoolteacher, Catherine Turner, in great distress as the bushfire races towards Hobart, and also towards her family home and orchard in the Huon Valley. The distress of loss comes too close to Catherine's family and creates a permanent rift. Grief and loss change their lives, and yet Catherine is convinced that she can help her family's orchard business recover if only her father will let her. Living next door to her friends and fellow orchardists Dave and Annie, her life and love is woven with theirs, and then with Dave's friend – the former music star, Mark and his son. But a secret Annie is hiding could disrupt the direction of their lives. This family drama is laced with friendship, love, loss, passion…. and apples!
Essentially a romantic saga, covering the period and generational change from 1967 to the present day, it will appeal to lovers of romance. It also reveals the social changes that have taken place over the decades, including family dynamics, feminist changes, to dietary preferences, and agricultural and horticultural practices within Tasmania. This is a female-friendly, adult story that would make a good holiday read. It has been based on solid research and anecdotal accounts of the period, and so feels real and insightful. For anyone that has travelled in Tasmania or recognises the difficulties of life on the land or has seen how a woman's place has changed over time, this enigmatic narrative will appeal. It will make a wonderful journey of armchair escape for adult readers who love Romance stories.
Themes: Romance, Family saga, Grief, Apple industry, Tasmanian history, Bushfires.
Carolyn Hull