The last bear by Hannah Gold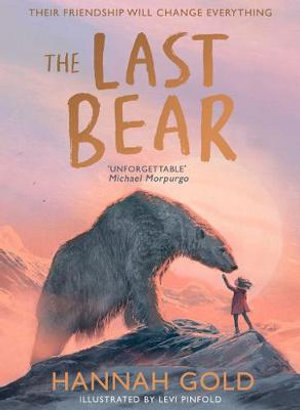 Two authors can make me cry - Michael Morpurgo and now Hannah Gold. It is interesting that Michael Morpurgo is quoted on the front cover of The last bear stating that this book by Hannah Gold is ". . . an important first novel, important for us, for polar bears, for the planet. It is deeply moving, beautifully told, quite unforgettable." I can only agree.
For those of us who have ever had a relationship with an animal, who have looked into the eyes of an animal and seen trust, Michael Morpurgo and Hannah Gold know how to capture this wonderful understanding into words, action and story. In The last bear, eleven year old April is the central character. She is a lonely child whose mother has died. The polar bear (Bear) has lost his pack. Both lonely creatures meet on Bear Island which truly exists and the reader is transported to the Arctic Circle to real places that are outside his or her experience; wonderful, wild and threatened.
Though April's father works within the field of science and the environment he is an adult and he misses the true and palpable relationship that April has with animals. This book is a war cry for children. It is raw and brave and suggests that adults may have lost some of the proximity to what is really important that can only be seen strongly through the clear eyes of children. The threat of climate change as indicated through the depletion of the polar bear population and the enormous loss of sea ice to the extent (according to NASA) of 1.75 million square kilometres over a forty two year period of satellite surveillance is what inspired Hannah Gold to write this novel.
Illustrated by multiple award winning Levi Penfold, this beautiful adventure story with its roots in the reality of our troubled planet and its animals will go straight to the heart of children from eight years of age through Middle School. Anyone who loves Michael Morpurgo's animal books or Pax by Sarah Pennypacker or Thiele's Stormboy will recognise that here is another powerful story, maybe an instant classic, which is about kindness, adventure and finding your own individual path in life. It is a coming of age story with all that is important in life learnt through the love of an animal. The last bear is grounded in real life through its setting and representation of human characters but there is adventure and magic in this book too!
Highly recommended.
Themes: Climate change, Planet, Polar bears, Children and relationship with animals, Adventure.
Wendy Jeffrey