The lady with the lamp by Jane Smith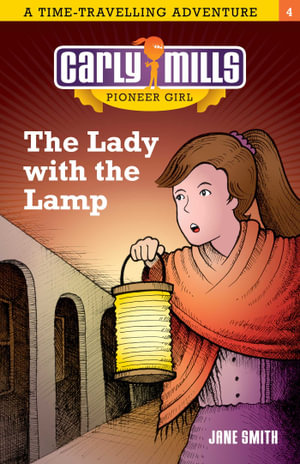 Carly Mills Pioneer Girl: The Lady with the Lamp by Jane Smith is the fourth book in this interesting historical series which looks at famous women who have made a difference in their chosen time. This story begins on a plane to England where Carly and her friend Dora are travelling with their classmate Simone to spend time with Simone's parents in London. Simone is not Carly's favourite person as she seems to be unhappy all the time and takes it out on Carly. However, they eventually learn to accept each other as they are. On arrival in London they are met by Simone's father's PA and Simone's response to her parent's apparent lack of interest in her is to place her piece of magical lace on her body and travel back in time. Carly and Dora have no choice but to follow Simone and wrap themselves in their magical shawls. They time travel to London 1853 and meet Florence Nightingale and her family. Florence is from a wealthy privileged family but dreams of nursing the poor and sick. She and the three girls travel to the Crimea to nurse soldiers who are surviving in shocking conditions. It is through her experiences in the war that Florence Nightingale becomes an advocate of maintaining healthy hospital and street environments to rid places of disease. For the three girls the whole experience in the Crimea is one of hardship and danger but where they each learn something new. Simone eventually reconciles with her parents and the visit to modern-day London becomes the holiday the girls were hoping for. At the end of the book are historical notes, quotes from Florence Nightingale as well as a Q & A section.
This story is suitable for middle-grade readers and offers an opportunity to learn important historical facts about an amazing woman, Florence Nightingale.
Themes: Women in History, Australian History, Friendship, Time Travel, Adventure.
Kathryn Beilby