The king's birthday suit by Peter Bently and Claire Powell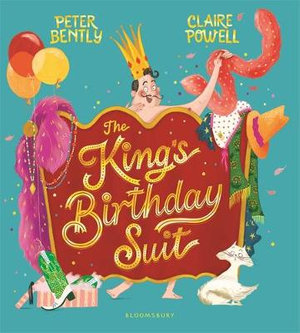 A wonderfully funny take on the Hans Christian Anderson fairy story, The emperor's new clothes, this verse story will delight new readers as they follow the efforts of a canny pair of tailors aiming to bring the haughty king down a peg or two.
The king with the beautiful name, Albert-Horatio-Otto the Third has an enormous range of clothes. He changes his outfits readily, taking every opportunity to show off. Even going to the loo offers the chance to wear something different.
With his birthday imminent he asks for the very best new suit, rejecting all that he is shown but he is impressed when a pair of tailors arrive, promising the very best he could desire. The cloth they weave is so fine that it can only be seen by the wise and the clever.
They are hired and set about their business. The court, not wanting to be seen as stupid, praise the cloth they see being made. It is indescribable, nothing has ever been seen like it, it is unbelievable. The king likewise says similar things, no-one wanting to appear stupid in the eye of those around them.
The reader of course knows exactly what is going on and cannot wait for the denouement where the king appears naked in front of his whole court.
This rollicking tale beautifully told in rhyming couplets will cause the readers to laugh out loud. They will predict the rhyming word, offering others as suggestions, laugh at the many references to behind and red cheeked, loo and bum. But most of all laugh at the silly king, so wrapped up in himself and his appearance that he is unable to see through the duplicitous tailors and his fawning court.
The hilarious illustrations will entertain the audience as they pick out the huge amount of detail, wonder at the number of clothes he has and the range of people who fawn over him in his court.
I love the different courtiers in their array of costume, and touches of the indolent life led by them all. The endpapers with the headline news and their wonderful examples of puns will give another level of humour to enjoy.
Themes: Clothing, Verse, Humour.
Fran Knight