The Katha chest by Radhiah Chowdhury and Lavanya Naidu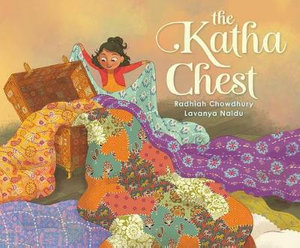 The charm of women coming together and sharing stories of love and family percolates from every word and illustration in this wonderful book. Asiya loves going to Nanu's house because she can look in the chest which contains the katha quilts. Made from the women's old saris, the material so worn they are no longer wearable, each quilt has a story to tell. They are soft with age, sometimes several sewn together to form a quilt, sometimes only enough pieces left to make a patchwork quilt.
Asiya pulls out several quilts, breathing in their perfume discernible long after they have been worn. She snuggles into one, its design reminding her of the medal she was allowed too play with, another has the bright colours of her aunt's stained fingers, another has the stiff neatly stitched edges another of the women sews, and another has a white panel, reminiscent of the colour worn after a death.
Each of the quilts has a special memory and the illustrator shows us its history in a double page of panels after each quilt is taken from the chest.
But when everyone has gone home, Maa wraps her daughter in one special quilt, Nanu's quilt, the oldest of them all; paper thin, smelling like tea and wood, old books and porcelain, it is wrapped around the girl and her mother, as she tells stories of the quilt's creator.
This wonderful tale of story telling, of traditions passed down from one hand to another, of women coming together, of recycling, will melt the hearts of its readers as they sit with the women talking about those who were once there, the older women who made the quilts with love and affection.
Naidu's illustrations are wonderful, filling each page with the patterns of the saris reused in the quilts, the colours and patterns forcing the reader to look more closely at the images before them. The text directs the eye to the quilts, giving a story behind the quilt, pressing the reader to look into the traditions of these women from northern India. The author and illustrator present family histories with a tenderness that is as overpowering as the smells Asiya breathes in from the quilts she takes from her grandmother' chest.
Themes: Family, Quilts, Recycling, Women, Story telling, India.
Fran Knight