The Italian girl by Anita Abriel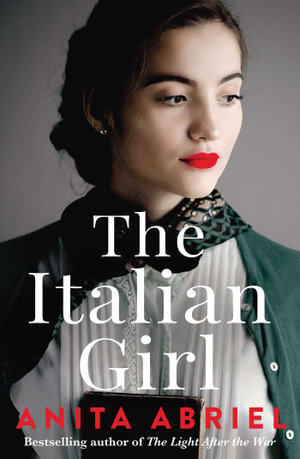 Marina Tozzi has a passion for art and is becoming an expert in the area, working with her father in his art gallery.  When she returns home one day to find her beloved father has been brutally murdered by a German officer, Marina doesn't know how she will go on or what she will do. With the help of a neighbor, she flees to Florence to track down a man who owes his life to her father.
Marina is taken in by the man, Bernard, who offers her somewhere to stay and a job cataloguing his extensive art collection.  She is still determined to find a way to avenge her father's death. A young artist Carlos offers her a way to work against the Nazis. She is excited to be involved in this and feels like she is helping in the war effort, while ensuring the country's art collection is being preserved and kept from the Nazis for future generations to enjoy.
Marina forms a friendship with Desi, the girl next door, and this friendship grows as Marina supports Desi with the troubles in her life. The friendship and the art keeps Marina going during the war. She doesn't expect to find love during such a challenging time but she falls for Carlos. But when Carlos disappears Marina believes the worst and has to try and build her life up again after another loss. She learns that not everyone is what they seem especially during a war.
Once the war is over Marina has to make a decision, what is she going to do with the rest of her life? Marina always wanted to own her own gallery, maybe after the war this will be possible.  She is determined to do something important, and when a job reuniting art pieces with their rightful owners is presented to her she knows this is what she is meant to do. After travelling across the world she is confronted with her past and needs to deal with it to be able to move on with her future.
I highly recommend this book.
Themes: World War II, Art.
Karen Colliver